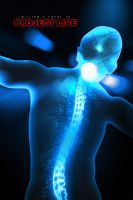 Overview
A solid science fiction medical story that will really twist your mind about how the government, medicine, and society mix. I thought it was good overall nothing totally noteworthy but I'll explain more later.
Review
Looking for a science fiction medical thriller that has an excellent plot, top notch characters, and stop and start action? Well look no further than Project Live! The storyline is highly intriguing following some shady government practices, broken relationships, and exploited people who all try to get their lives rebuilt since the government tore them down. Proper listening music would be Avicii Wake me up style.
Rating
4/5 Solid book just I'm not a fan of the cover art. It's good just I do not know it is not my style. Still there are some minor plot holes and the ending leaves much to be desired. Still a good read.